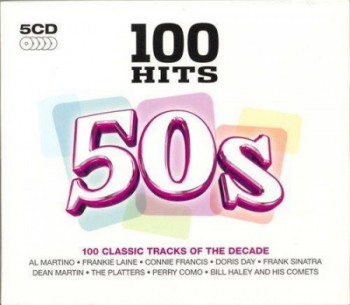 VA - 100 Hits 50s (100 Classic Tracks Of Decade) (2009)
Year Of Release: 2009 | Format: Flac, Tracks+.cue | Bitrate: lossless | Total Size: 1 GB
Genre: Rock, Soul, Pop
Tracklist:
CD1
01.Al Martino / Here In My Heart
02.Alma Cogan / Dreamboat
03.Jimmy Young / Unchained Melody
04.Nat King Cole / Too Young
05.Kay Starr / The Wheel Of Fortune
06.The Mills Brothers / The GlowWorm
07.Eddie Fisher / Wish You Were Here
08.Dickie Valentine / Finger Of Suspicion
09.The Chordettes / Mr. Sandman
10.Rosemary Clooney / This Ole House
11.Perry Como / Dont Let The Stars Get In Your Eyes
12.Tony Bennett / Cold, Cold Heart
13.Frankie Laine / A Woman In Love
14.Tennessee Ernie Ford / Sixteen Tons
15.Slim Whitman / Rose Marie
16.Patti Page / I Went To Your Wedding
17.Johnnie Ray / Just Walkin In The Rain
18.Frankie Vaughan / The Garden Of Eden
19.Connie Francis / Carolina Moon
20.Winifred Atwell / The Poor People Of Paris
CD2
01.Perry Como / Magic Moments
02.Connie Francis / Whos Sorry Now
03.Vic Damone / On The Street Where You Live
04.Michael Holiday / The Story of my Life
05.Peres Prado / Cherry Pink and Apple Blossom White
06.The Four Aces / Love is a many Splendoured Thing
07.Tony Bennet / Rags to Riches
08.Rosemary Clooney / Hey There
09.Nat King Cole / Mona Lisa
10.The Andrew Sisters / I Wanna be Loved
11.Mario Lanza / Be my Love
12.Frankie Laine / I Belive
13.Ruby Murray / Softly Softly
14.Jonny Mathis / Chances Are
15.Debbie Reynolds / Tammy
16.Tommy Edwards / Its all in the Game
17.Pat Boone / Aint That a Shame
18.Ricky Nelson / Poor Little Fool
19.Teresa Brewer / Music! Music! Music!
20.Kay Starr / Rock and Roll Waltz
CD3
01.Dean Martin / Memories Are Made Of This
02.Doris Day / Secret Love
03.Perry Como / Wanted
04.Frank Sinatra / Three Coins In The Fountain
05.Eddie Calvert / O Mein Papa
06.David Whitfield / Answer Me
07.Rosemary Clooney / Half As Much
08.Tony Bennett / Because Of You
09.Kay Starr / Comes A Long A Long
10.Jonnie Ray / Cry 85:52
11.Jane Morgan / The Day The Rains Came
12.Elia With His Zig Zag Jive Flutes / Tom Hark
13.The Coasters / Yakety Yak
14.The Mudlarks / Lollipop
15.Connie Francis / Stupid Cupid
16.The Four Preps / Big Man
17.Guy Mitchell / Singin The Blues
18.Laurie London / Hes Got The Whole World In This Hands
19.The Kingston Trio / Tom Dooley
20.Mitch Miller And His Gang / The Yellow Rose Of Texas
CD4
01.Bill Haley And His Comets / Rock Around The Clock
02.Frankie Lymon And The Teenagers / Why Do Fools Fall In Love?
03.Cliff Richard / Move It
04.Danny And The Juniors / At The Hop
05.The Champs / Tequilla
06.Lord Rockinghams Xl / Hoots Mon!
07.The Silhouettes / Get A Job
08.The Kalin Twins / When
09.Buddy Holly And The Chrickets / Thatll Be The Day
10.Marvin Rainwater / Whola Lotta Woman
11.Jerry Lee Lewis / Great Balls Of Fire
12.The Crew Cuts / ShBoom
13.Paul Anka / Diana
14.Buddy Knox / Party Doll
15.Guy Mitchell / Rock A Billy
16.The Platters / My Prayer
17.Pat Boone / Friendly Persuasion (Thee I Love)
18.Jonnie Ray / Such A Night
19.The Teddy Bears / To Know Him Is To Love Him
20.Conway Twitty / Its Only Make Believe
CD5
01.Dean Martin / Volare
02.Rosemary Clooney / Mambo Italiano
03.Perry Como / Hot Diggity (Dog Ziggity Boom)
04.Doris Day / Whatever Will Be, Will Be (Que Sera, Sera)
05.David Whitfield / Cara Mia
06.Ronnie Hilton / No Other Love
07.Perez Prado / Patricia
08.Louis Armstrong / Mack The Knife
09.Cogi Grant / The Wayward Wind
10.Jimmy Young / The Man From Laramie
11.Kitty Kallen / Little Things Mean A Lot
12.Tony Bennett / Stranger In Paradise
13.Eddie Fisher / Im Walking Behind You
14.Pat Boone / Ill Be Home
15.Tab Hunter / Young Love
16.Sam Cooke / You Send Me
17.Shirley Bassey / As I Love You
18.Bing Crosby And Grace Kelly / True Love
19.Frankie Laine / Hey Joe!
20.Lonnie Donegan / Putting On The Style
DOWNLOAD:
[code]
http://uploaded.net/file/1r8kks3f/100_Hits.part5.rar
http://uploaded.net/file/mdtof26c/100_Hits.part4.rar
http://uploaded.net/file/oq1xblw3/100_Hits.part3.rar
http://uploaded.net/file/yy3t6ea3/100_Hits.part2.rar
http://uploaded.net/file/pyxt0nfp/100_Hits.part1.rar
[/code]